You are here
Back to top
CTC New Factory Launching Ceremony Completed Successfully
For providing better service to customers and better working environment to all the staff, CTC moves to the new factory in DaLiao Distric. The design of energy saving and environmental protection wins Green Building Label certificated by Ministry of Interior, Taiwan.
CTC dedicates to improve employee happiness, we achieve the major milestone to relocate to the new factory, our staff enjoys the nice working space like: free car/scooter parking lot in the basement, staff lounge (sunshine, sofa, coffee, snack), comfortable office, greenery design atrium, baby care room, multi-functional gym, infirmary, nursery room and staff restaurant…, etc.
While all the functions are settled down, CTC invite all the partners to join the opening party, we completed the launching ceremony in blessings and applause, and get the next step of CTC started.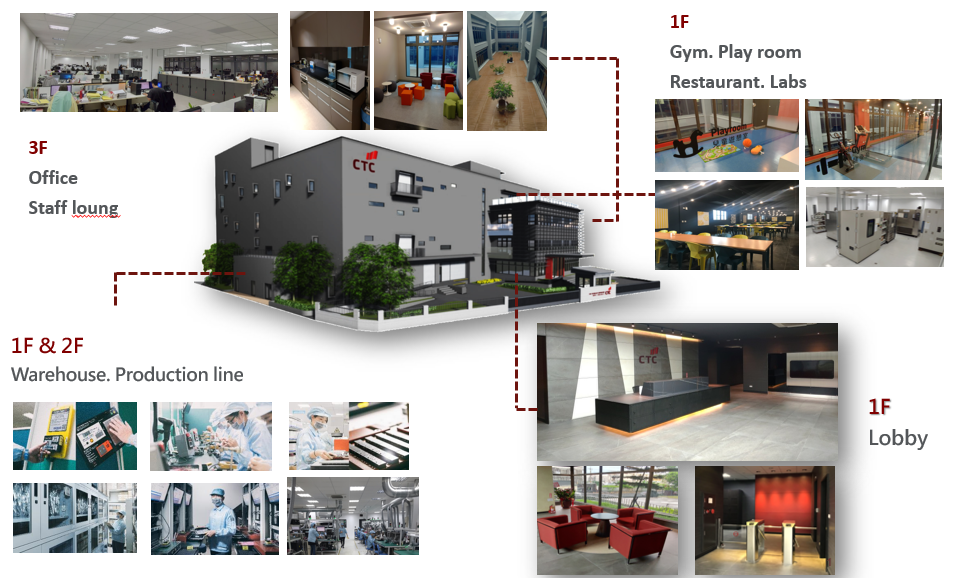 CTC is a professional service provider for high-end power supply modules (AC to DC Converter and DC to DC Converter) for critical applications worldwide since 30 years. Our core competence is to design and deliver products with leading technologies, competitive pricing, extremely flexible lead-time, global technical service and high-quality manufacturing (Made In Taiwan).
CTC is the only corporation certificated with ISO-9001, TS-16949, ISO22163, and ESD/ANSI-2020. We can 100% ensure not only the product, but also our workflow and service to match quality management system for every high-end application from the very beginning. From design to manufacturing and technical support, every single detail is operated under highest standard.